Concrete Laboratory
This lab provides facilities for various tests for cement and concrete which includes test for compressive strength, flexural strength, fineness, and mix design of concrete etc. Non-Destructive testing machine of this lab is also widely used for consultancy.
Environmental Engineering Lab
This lab is mainly intended for qualitative and quantitative analysis of the characteristics of water and waste water. The lab is also equipped for analysis of air samples, sound level and exhaust gases. Floor area of this lab is 184m2
Geotechnical Engineering Lab
It is well equipped with instruments and machineries for conducting laboratory tests and for extending consultancy service to government and private organizations. Students get good exposure to the tests related to soil mechanics. The experience in this lab equips the students with a good understanding of geotechnical engineering problems. Floor area of this lab is 140m2
Library
The Department has a separate library with 1500 volumes of and a number of journals essential and useful to both teachers and students.
Floor area is 30m2
Material testing Lab
The lab has facilities for testing mechanical properties of materials used in constructions. Students of both civil and mechanical branch use these facilities.Floor area of this lab is 650m2
List of equipments:
Universal testing machine - 100T capacity with multiple operation facility
Universal testing machine - 40T capacity
Torsion testing machine
Spring testing machine
Impact testing machine
Wood testing machine
Vicker's and Brinell hardness testing machine
Eseway - Automatic hardness tester
Structure testing apparatus
Share's scaleroscope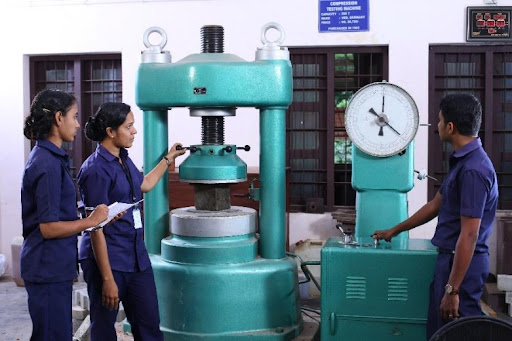 Survey Lab
Civil engineering students need extensive training in surveying. The lab has all the instruments needed for this. Floor area of this lab is 110m2.
Some of the important equipments available in survey lab are the following:
Total Station :- This is an electronic device which measures horizontal and vertical angles and slope distances in a single integrated unit.
Digital Theodolite :- This equipment measures horizontal and vertical angles withan accuracy of 1inch, indicates digitally on LCD display and records in the internal memory.
Digital Level :- It measures heights and distances very accurately, indicates digitally on the LCD display and records in the internal memory. Survey lab also has a Color Plotter which can plot on paper size up to A0.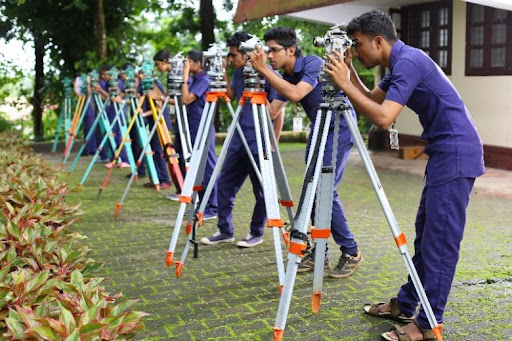 Transportation Engineering Lab
This lab has all the facilities needed for testing of materials such as soil, aggregates and bitumen used in highway construction. The facilities are also being used extensively for bituminous mix Designs and Pavement design. The students get in depth training in the testing of properties of the above materials in the lab. Floor area of this lab is 270m2